PB ARCHITECTS, INC.
617 8TH AVE S
SEATTLE, WASHINGTON 98104
phone 206.443.9790
fax 206.443.9875
Email: info@pbarch.com
Current Projects
Bellevue & Denny Seattle, WA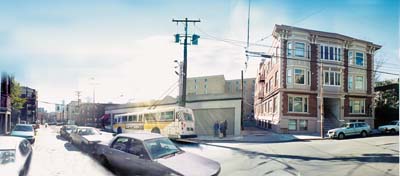 Digitaly constructed Panaramic photo.
Seven story structure to be built on the corner of Bellevue and Denny Ave on Capitol Hill. The building will feature retail and office space on the first floor and three stories of residental space with decks and land scaping.
Click here to see a photosim of what the building will look like.

Providing complete and comprehensive architectural services that respond to your needs
PB ARCHITECTS, INC.
617 8TH AVE S
SEATTLE, WA 98104
phone 206.443.9790
fax 206.443.9875
info@pbarch.com